AI recipe generators are an exciting innovation that blend technology with gastronomy, opening up a new world of culinary possibilities. These cutting-edge tools employ machine learning to suggest recipes based on various factors, such as dietary preferences, available ingredients, and even flavor combinations. 
In this article, we will introduce and explore five leading AI recipe generators that are transforming the way we cook and eat, making meal planning more exciting, personalized, and effortless than ever before.
Whether you're a seasoned chef seeking inspiration or a novice looking to master the art of cooking, these AI recipe generators promise a taste of the future.
5 Best AI Recipe Generators
So, if you're ready to spice up your meal planning with some AI magic, buckle up! We have compiled a list of the top five AI recipe generators you should check out. These innovative tools are not just reshaping the culinary world, but also paving the way for personalized cooking experiences. 
ChefGPT
ChefGPT is an AI-powered personal chef that offers a variety of features to help users with their cooking needs. It provides AI-powered recipe recommendations, meal plan creation, and more. The platform has already saved over 100,000 dinners.
Here are some of the key features of ChefGPT:
PantryChef: This feature allows users to input the ingredients they have in their pantry, and the app will generate a recipe for them. This helps to reduce food waste and save money.
MasterChef: This is a cooking companion that helps users find specific recipes, modify them based on dietary requirements, or generate new recipes based on cravings. It provides personalized, healthy, and delicious recipes that fit the user's lifestyle.
MacrosChef: This tool is perfect for those looking to meet their macronutrient goals. It generates customized recipes based on specific macronutrient goals and dietary restrictions.
MealPlanChef: This is a meal planning solution that allows users to build a meal plan that fits their specific fitness goals and dietary requirements.
PairPerfect: This tool provides expert pairing suggestions for food and drinks, helping to elevate the dining experience.
ChefGPT offers a free basic plan as well as a Pro plan for $2.99 per month, which includes unlimited generated recipes, all modes (PantryChef, MasterChef, MacrosChef, MealPlanChef, PairPerfect), unlimited cookbook, unlimited shopping list, and no ads. The platform has received positive testimonials from users and has been featured in various media outlets.
SuperCook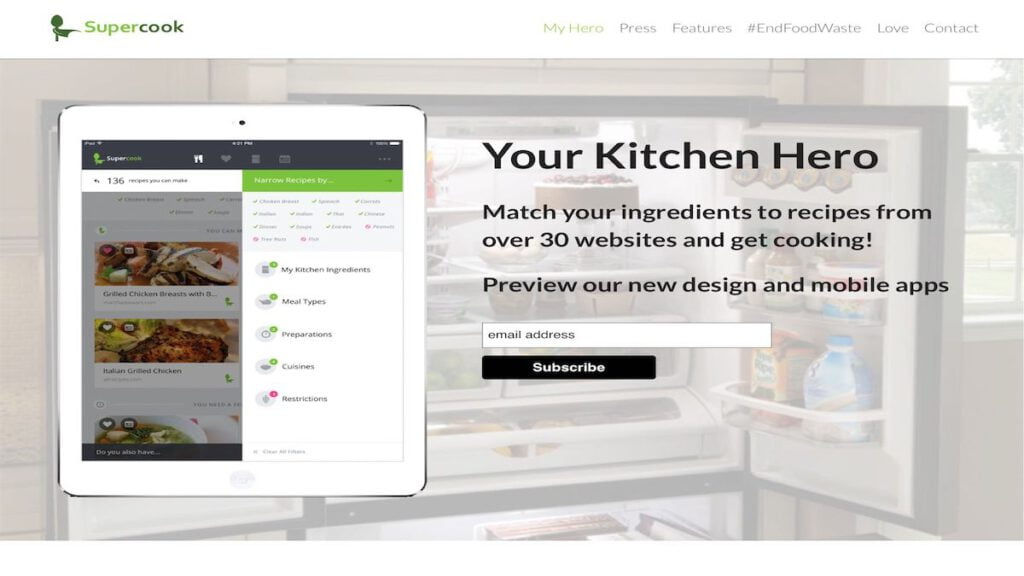 SuperCook is an AI recipe generator engine that lets you select the ingredients you have at home. It aims to help users find recipes they can make with the ingredients they already have, reducing food waste and saving money.
The platform is user-friendly and straightforward. Users simply enter the ingredients they have in their pantry, and SuperCook will generate a list of recipes that include those ingredients. The platform also offers a wide range of ingredients to choose from, including various fruits, vegetables, meats, dairy products, grains, and more.
SuperCook also provides filters to refine the search results. Users can ban certain ingredients, specify the type of food (any food, vegetarian, vegan), indicate if the recipes should be suitable for celiacs, and choose the region of the cuisine (any region, Asian, American, European, African, Australian, Indian, Middle Eastern, Latin American).
This tool is a great solution for those who want to cook at home but are unsure what to make with the ingredients they have. It's also a fantastic way to discover new recipes and cuisines.
Kitchen Engineer AI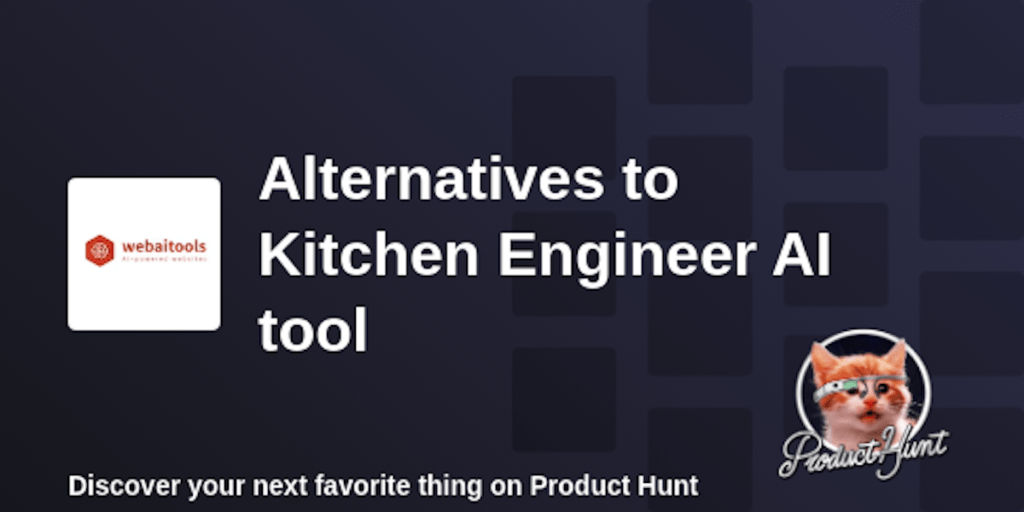 Kitchen Engineer AI is a tool designed to help users cook smarter by utilizing the ingredients they already have. The tool uses machine learning to analyze the ingredients that a user inputs and then provides them with a list of recipes that can be made with those ingredients. This not only helps to prevent food waste but also provides inspiration for meals that may not have been considered before.
To use Kitchen Engineer AI, users simply enter the ingredients that they have in their kitchen, separating each ingredient with a comma. The AI then searches for suitable recipes and presents them to the user.
This tool is a great example of how AI can be used to make everyday tasks easier and more efficient. Whether you're a seasoned cook looking for new ideas or a beginner trying to make the most of what you have, Kitchen Engineer AI can help you create delicious meals with ease.
CookAIfood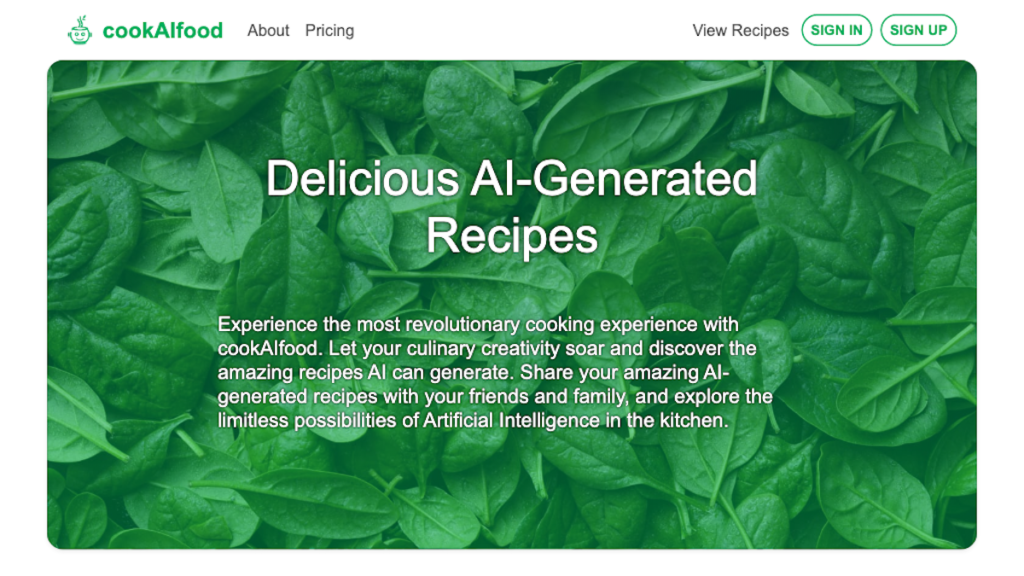 CookAIfood is a platform that allows users to discover, create, and share AI-generated food recipes. As of now, it has a collection of 1152 AI-Generated Recipes.
The platform provides a variety of filters to help users find the perfect recipe. Users can filter recipes based on the type of food (e.g., appetizer, beverage, breakfast dish, dessert, main dish, etc.), cuisine (e.g., American, Asian, Brazilian, Chinese, French, Indian, Italian, etc.), and extra labels (e.g., dairy-free, gluten-free, healthy, keto, low-carb, paleo, vegan, vegetarian).
The platform also allows users to sort the recipes by default, newest, likes. For those who want to contribute, there's an option to create a new recipe. Some of the recipes available on the platform include "Mediterranean Fruit and Veggie Salad" and "Fried Banana Ketchup Rice".
CookAIfood is a great tool for food enthusiasts who want to explore new recipes and cuisines, as well as for those who are looking for specific dietary options.
FoodAI
FoodAI is a web application that uses AI to generate cooking recipes. The AI model is trained on a dataset of 1.5 million recipes. Users can select the ingredients they want to use, and the AI will provide recipes that include some of those ingredients.
Users can also filter the results using various options such as banning certain ingredients, specifying the type of food (any food, vegetarian, vegan), specifying if the recipes should be suitable for celiacs, and choosing the region of the cuisine (any region, Asian, American, European, African, Australian, Indian, Middle Eastern, Latin American).
FoodAI offers a free trial for 30 days, after which it costs $0.99 per month.
Conclusion
In the end, these five AI recipe generators—ChefGPT, SuperCook, Kitchen Engineer AI, CookAIfood, and FoodAI—represent an exciting fusion of technology and gastronomy. They take your available ingredients, dietary preferences, and food cravings into account, helping you discover delicious recipes and streamline your meal planning.
Whether you're an experienced chef looking for novel ideas, or a cooking novice trying to navigate your kitchen, these AI tools promise to change the way you cook and eat. It's a taste of the future, and the future tastes fantastic! Embrace these AI-powered culinary assistants, and watch as they transform your ordinary meals into extraordinary culinary adventures. Happy cooking!
This post contains affiliate links.