In an age where digital content is king, having the right tools for video and podcast production is an absolute must. Descript, an all-in-one video and podcast editing tool, has emerged as a leader in this domain, bringing innovative uses of artificial intelligence to make the editing process easier and more efficient.
Background
Descript began its journey with the objective of making audio and video editing as simple and accessible as working with text. Over time, it has evolved into a comprehensive platform that integrates multiple functionalities in one place, allowing content creators to edit, transcribe, record, and publish their work all from a single platform. The revolutionary aspect of Descript is its use of artificial intelligence. AI in Descript is employed to automate some of the most tedious aspects of the editing process, such as transcription, allowing content creators to focus more on the creative aspects of their work.
Features
Video Editing
One of Descript's standout features is its video editing capability. It is designed to be as intuitive as working with documents or slides, meaning users can trim, split, rearrange clips, add text, transitions, and effects with ease. The ability to export videos in various formats adds another level of flexibility for the content creators.
Podcasting
For podcast producers, Descript has an integrated multitrack audio editor that can be used to record, edit, and mix audio tracks. It's easy to add music and sound effects, making it an ideal tool for podcast production. Exporting the final product is also a breeze with multiple format options available.
Screen Recording
Descript's screen recording feature is designed for ease and speed. Users can instantly capture their screen activity or webcam, edit it right on the platform, and share the recordings. This can be a boon for creating tutorials, demos, or online classes.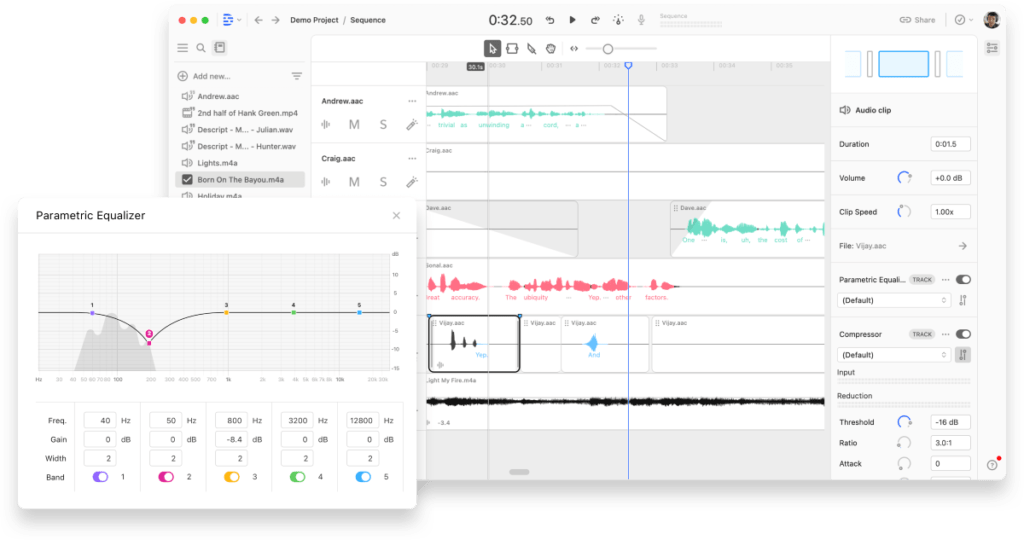 Transcription
Perhaps one of the most powerful features of Descript is its transcription service. It can transcribe audio from videos and podcasts automatically with industry-leading accuracy. Once transcribed, the text can be edited, making corrections as easy as editing a word document. This can be particularly useful for creating subtitles or written content from audio and video files.
Clip Creation
With Descript, it's easy to create clips from larger videos or podcasts. Users can utilize templates and subtitles to make the clips more engaging. Once created, these clips can be shared directly on social media platforms or embedded on websites, making it a powerful tool for marketing and promotion.
Publishing
Descript takes the hassle out of hosting videos and podcasts on websites. It offers an embeddable player that can be easily integrated into a website. This provides users a hassle-free way of sharing their content with their audience.
Pricing Plans

Descript offers a free plan for users to get a taste of its capabilities. This allows users to understand the platform and explore its basic features without any financial commitment. For those seeking more, Descript has paid plans starting at $15 per month. These premium plans unlock additional features such as unlimited transcriptions, more storage space, and access to premium templates, making them a worthwhile investment for serious content creators.
Key Points
Descript is an all-in-one video and podcast editing tool that leverages artificial intelligence to make the editing process more streamlined and efficient. It offers a wide array of features, including video editing, podcasting, screen recording, transcription, clip creation, and publishing. The user interface is designed to be intuitive and easy to use, even for those with minimal editing experience. With affordable pricing plans, starting at $12 per month, Descript has made professional-grade video and podcast editing accessible to a broader audience.
Pros and Cons
Pros:
Ease of Use: Descript is designed with user-friendliness in mind. Its interface is clean and intuitive, allowing users to navigate through the different features with ease.
AI Features: The use of artificial intelligence, especially in transcription and editing, makes Descript a standout tool. It automates some of the more tedious aspects of the editing process, saving users time and effort.
Wide Range of Features: From video editing to podcasting, to screen recording and publishing, Descript provides an all-in-one solution for content creators.
Affordable Pricing: Descript's affordable pricing, with a free plan and premium plans starting at just $12 per month, makes it accessible for all levels of content creators.
Cons:
Performance on Older Computers: Descript, with its advanced features and AI capabilities, can be slow on older computers. Users might need a relatively modern system to run it smoothly.
Limited Features on Free Plan: While Descript does offer a free plan, some of the more advanced features are only available on the paid plans.
Competitors
Descript is not without competition in the market. Tools like Adobe Premiere Pro and Final Cut Pro offer comprehensive video editing capabilities. For audio editing and podcasting, Audacity and Hindenburg Journalist are popular choices. However, what sets Descript apart is its integration of video and podcast editing with AI-powered transcription and screen recording, all under one roof.
Summary
In conclusion, Descript has successfully positioned itself as a comprehensive solution for video and podcast content creators. The ease of use, the integration of artificial intelligence, and the wide array of features it offers make it a powerful tool. Its affordable pricing plans also make it an accessible platform for content creators of all levels. While there are other tools available in the market, Descript's all-in-one approach coupled with its innovative features truly sets it apart. Whether you are a professional content creator, a budding podcaster, or a business looking to delve into digital content, Descript is definitely worth considering.
This post contains affiliate links.